Ripcord systems and accessories
Ripcord emergency stop switch
In emergency situations, it must be possible to shut down conveyor belt systems at any point along the line. That is why ripcord emergency stop switches are required by standards as additional safety measures. Ripcord emergency stop switches from Förderband Technik Kilian GmbH are emergency stop devices with a locking mechanism. They are operated by pulling or breaking the cord. The system is reset manually.
Parts for ripcord systems are needed to safely install ripcords. These parts are designed to suit our ripcord emergency switches and individual applications.
The safety information for electro-mechanical switches is specified in DIN EN ISO 13849-1.
It goes without saying that we supply EX ripcord emergency switches approved for operation in explosive areas.
Conveyor belts can run off their tracks and cause considerable damage. Misalignment switches are therefore used to detect belt misalignment and switch it off.
Misalignment switches are activated by acceleration or swivelling of the roller lever when it reaches a particular switching angle, and they reset themselves automatically when the belt is running true again. Two switch points for early warning and stopping/locking the roller lever after triggering are possible, depending on the switch version.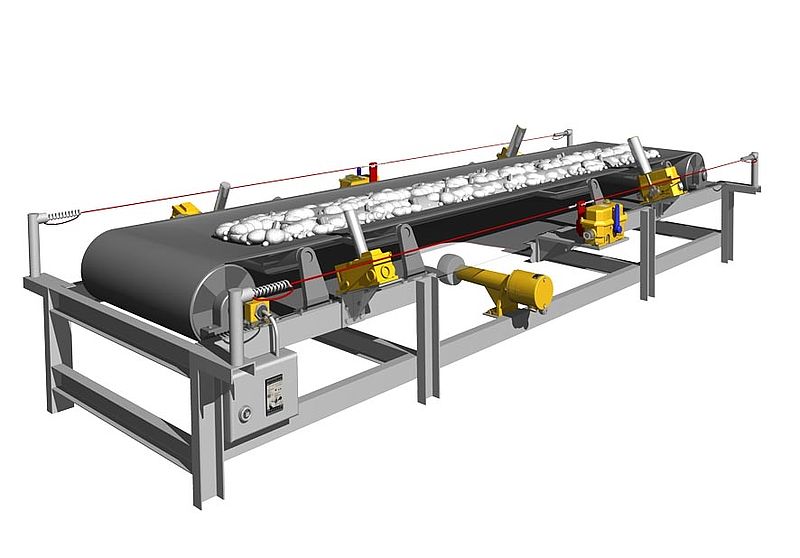 Spare parts for ripcord systems
Ripcords are used as actuators for operating ripcord emergency stop switches along conveyor belt systems. The ripcord and the accessories required for installation are functionally matched to the ripcord emergency stop switches, taking normative requirements into account.
We therefore consistently stock: